Let's name one of the biggest issues of any aircraft operating in saltwater environments – corrosion.
Especially on an airplane, corrosion is not just an unattractive colour; it is a serious issue which can lead to the loss of structural properties, which can be a real safety issue.
This issue is present especially for metal construction aircraft. To limit those issues, an extensive maintenance and anti-corrosion program is required which generate a lot downtime and costs.
Answering this particular problem, the Seastar is designed for the operation in aggressive saltwater environments. To ensure the highest anti-corrosion capabilities, the Seastar airframe is made from non-corrosive reinforced fibre materials: mainly glass and carbon fibre.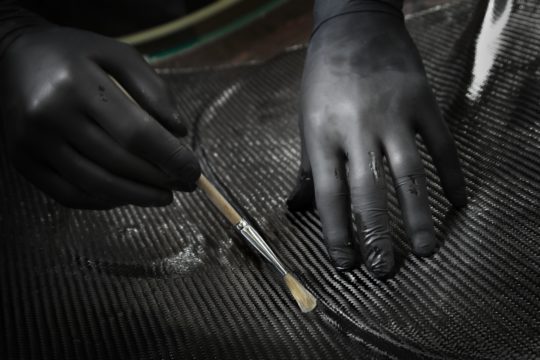 These two compound materials are combined with resin that is certified for aviation use, and are transformed to a long-lasting, fatigue-resistant and non-corrosive structure, which construct the fuselage, wings, stabilizers and many further elements like doors and panels of the Seastar.
The extensive use of these advanced composite materials not only ensures a high level of safety and reliability but also a high level of airworthiness.
Other equipment and metallic parts of the Seastar including brackets, the wing struts, landing gear system and some interior and avionic/electric parts and systems are protected with a special surface treatment ensuring the highest corrosion resistance.
The airframe can be maintained "on condition" and usually requires just visual inspection, and a simple daily fresh water "shower" to ensure engine warranty terms and landing gear cleaning.
There is also a second issue with metal aerostructures; their construction philosophy of different parts being riveted together. Those rivets are the entrance door for any corrosion, given it is not possible to clean them effectively.
The composite Seastar airframe is made from two shells which are bonded together.
No rivets are required in the in-mould lamination process, resulting in a smooth and sleek surface. The design and production process of the Seastar leaves no "entry door" for corrosion, and guarantee a safe, maintenance-free and durable structure.
The non-corrosive composite material can increase the lifetime of an aircraft. Therefore, the Seastar is certified up 30.000 flight hours of flight operation or 37.500 flight cycles while any cycle has 0.8 hours of flight time.
This incredible technology and life time contribute to the high residual value of the Seastar, which makes it very attractive from a commercial and maintenance perspective.
The Seastar – the World's Most Advanced Amphibious Aircraft.