You may remember the golden era of the seaplane where air travel is a luxury? You may also remember the time when it was allowed to smoke on board of an aircraft, and even ash trays were installed on each seat? Elegantly dressed gentlemen and ladies lighting cigarettes while they socialize.
Good old times, right?!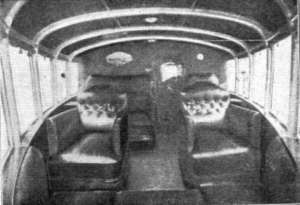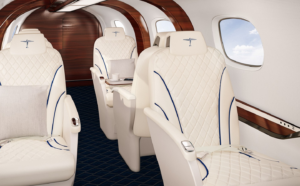 Spacious, Bright, Airy & Comfy
The modern interior design provide maximum light and room in the cabin, featuring large oval-shaped windows, a special and unique seat design tailored for highest comfort in this airborne super yacht. Beside abundant natural sunlight, there are passenger reading lights and background lights installed which can be adjusted to your current mood and time.
The Seastar features an electrically powered air ventilation and optional air condition system. Through top mounted air vents, the fresh and cooled air provide you with a comfortable temperature and helps to avoid sea sickness.
Customizable and Flexible
The standard seating number is useful for up to 9 passenger. The back rest of VIP seats can be adjusted to an individual setting and provide an armrest including a collapsible table. There are customized elements like a company logo stitching in the VIP seat head rest, or the current colour of upholstery.
A flat cabin floor with 5 seat tracks installed enables quick changes from the current seating setup to cargo operation or other cabin configurations for different operations.
The baggage compartment is located in the back of the cabin with useful load for up to 180 kg; the baggage compartment  can be easily reached through a slide door from the cabin, or through an external baggage door.
The all new cabin leaves no doubt that the Seastar is world's most advanced amphibious aircraft.