Oberpfaffenhofen, Germany: 28th March 2020
The prototype SN1003, a New Generation of the Dornier Seastar amphibious aircraft successfully performed its first flight today at Oberpfaffenhofen EDMO airport, Germany. The flight was performed by Dornier Seawings test pilot crew and took 31 minutes.
The Seastar SN1003 attained the required approvals from EASA and LBA on 19 March 2020, this was a major milestone and achievement for the program.
The New Generation Seastar is significantly improved from the original Seastar which was designed and developed by Claudius Dornier Jr. in the 1980s. The New Generation is equipped with a state-of-the-art full digital glass cockpit, new highly efficient propellers, several systems including air-conditioning and stern thruster, plus a corrosion-resistant composite structure that results in reduced maintenance keeping costs significantly down particularly in sea water operations.
The operational concept of the Seastar is to enhance short to medium haul trips with lower cost and flight time but higher safety and capacity, efficiently connecting land and sea through the sky. The New Generation Seastar has a maximum takeoff weight of 5100 kilograms, a maximum cruise speed of 180 KTAS (333 km/hr) and 900nm (1667 km) as a maximum range*.
Possible customizable interiors include cargo, VIP, passenger and special mission configurations.
Pilot's feedback after the first flight of the New Generation Seastar:
"First flight was completed successfully and confirmed the nice handling qualities of the Seastar. All systems functioned correctly. The advanced avionic system reflects the state-of-the-art in cockpit design and is a good baseline for future development." – Wolfram Cornelius, Chief Test Pilot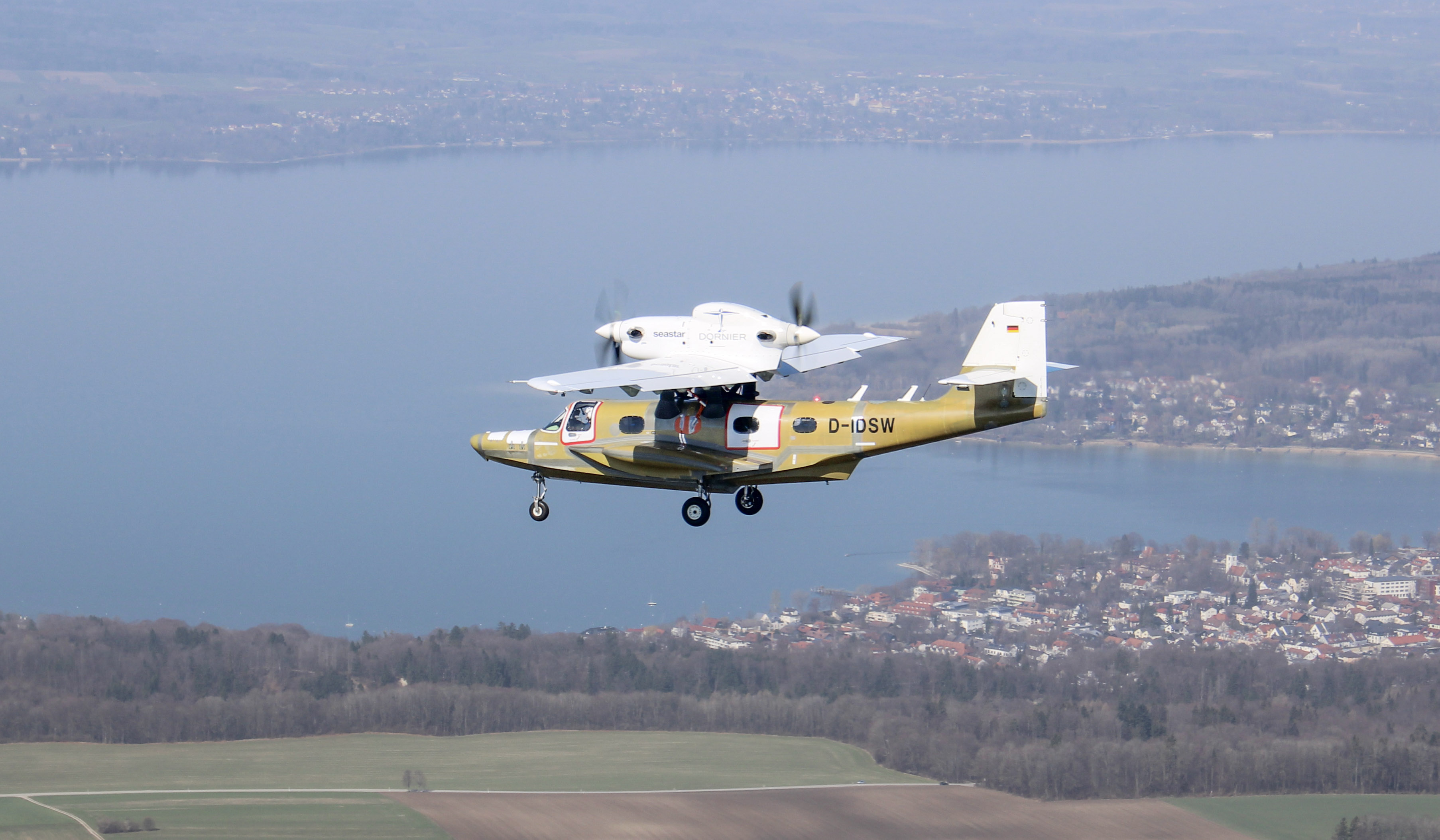 For more information about the New Generation Seastar, please also visit our webpage dornierseawings.com.
*all performance data provided is preliminary and subject to change without any notice.
About Dornier Seawings: Dornier Seawings, based in Germany and China, is the culmination of three generations of Dornier aviation heritage that designs, develops and manufactures foremost seaplanes. Dornier Seawings is a multicultural and multi-national Joint Venture between the Dornier family and two state-owned Chinese enterprises: Wuxi Industry Development Group Co., Ltd and Wuxi Communications Industry Group Co., Ltd. Today, the company's mission is to design, produce, sell and support the Dornier Seastar CD2, the world's most advanced amphibious aircraft.
Find us on Facebook, Linkedin, YouTube, Instagram official Dornier Seawings pages.